PDF this page
Apply Now!Related Programs & Requirements | Degrees and Certificates
The Drafting Technology Program provides training experience in computer-aided drafting. The Associate of Applied Science Degree prepares students for entrance into the drafting profession confident of having received a strong foundation in drafting disciplines and skills.
Architectural and civil drafters prepare detailed drawings of architectural and structural features of buildings or drawings and topographical relief maps used in civil engineering projects, such as highways, bridges, and public works. Use knowledge of building materials, engineering practices, and mathematics to complete drawings.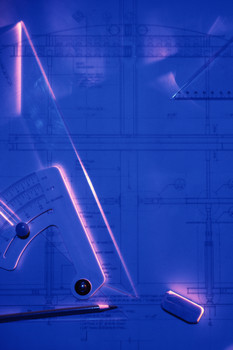 Electronic and electrical drafters prepare wiring diagrams, circuit board assembly diagrams, and layout drawings used for the manufacture, installation, or repair of electrical equipment.
Mechanical drafters prepare detailed working diagrams of machinery and mechanical devices, including dimensions, fastening methods, and other engineering information.
Career Opportunities
Graduates of this program may be employed as architectural and civil drafters, electrical and electronics drafters, or mechanical drafters, among other careers.
Employment Outlook
Normal pay for Commercial and Industrial Designers is $68,911 per year, as of October 2015. That is about $5,742 per month, or $33.13 per hour. New workers generally start around $42,277, while highly experienced workers can earn as much as $98,763. More details.