PDF this page
Apply Now!Related Programs & Requirements | Degrees and Certificates
The Program
The Lee College Electrical Technology Program provides students with practical knowledge of electricity through practical application and electrical theory. The Electrical Program is designed to prepare students for entry level positions as industrial electricians. Both a Certificate and an Associated of Applied Science Degree are available.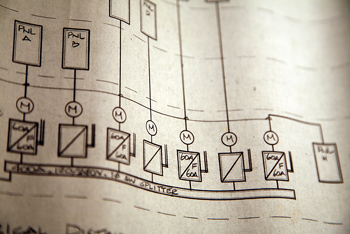 Career Opportunities
Opportunities in the electrical field are increasing. As technology advances, the demand for qualified industrial electricians also increases. Today's electricians install and maintain electrical systems including climate control, security and communications. They may install coaxial or fiber optic cable for computers and test circuits for proper connections. They work with blueprints and must follow the current National Electric Code and comply with state an local building codes.
Electricians often work for large industrial plants, public utilities, government agencies, electrical contractors, building contractors, and construction companies. Hospitals, school districts and department store chains often employ electricians.
Skills needed to succeed in this field are good reading and writing skills, logical thinking for problem-solving and a current knowledge of state and local building codes. Personal qualities needed include being safety-minded, patient, self-motivated, having stamina and a willingness to learn.
Employment Outlook
Normal pay for Electrical and Electronics Repairers, Commercial and Industrial Equipment is $57,999 per year as of October 2015. That is about $4,833 per month, or $27.88 per hour. New workers generally start around $36,034, while highly experienced workers can earn as much as $86,025. More information.