PDF this page
This catalog effective with the start of the 2013 fall semester.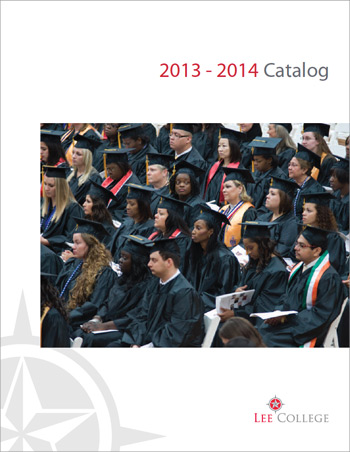 Admission, Registration, and Enrollment (PDF)


General Admission
Documents Needed for Admission to the College
Registering for Credit
Learning Strategies Course Requirement Based on Placement Scores
Texas Success Initiative (TSI)
Credit by Examination and Placement into Advanced Classes
Enrollment into Special Programs
Policies Regarding Credit, Grades, and Student Records
Graduation
Tuition, Fees, and Financial Aid (PDF)

Student Financial Aid
Business Office Policies
Refund Policy
Student Life Opportunities, Services, and Policies (PDF)


Student Life
Student Services
Sports
Campus Services
Library
Instructional Labs
Student Rights and Responsibilities
Information Regarding Classes
Graduate Guarantee Program
Student Conduct
Academic Honesty
Sexual Harassment
Student Appeals
Academic Studies (PDF)

Degrees and Certificates
Introduction
Core Curriculum
Core Curriculum Options
Distance Education
Associate of Arts Degree
Associate of Science Degree
Associate of Arts in Teaching
Field of Study Curriculum
Areas of Concentration – AA Degree
Areas of Concentration – AS Degree
Applied Science Degree and Certificate Plans (PDF)

Associate of Applied Science (AAS)
Accounting
Business Administration and Management
Career Pilot
Communications (Audio Recording)
Computer Information
Computer Technology
Cosmetology
CADD and Engineering
Education
Electrical
Game Design
Health Information
Industrial Systems
Instrumentation
Logistics
Manufacturing Technology
Mental Health Services
Nursing*
Nursing VN*
Paralegal
Physical Therapist Assistant
Pipefitting
Process Technology
Professional Administrative
Safety Management
Welding

*Nursing program course requirements and admission criteria have changed since this catalog was published. Please see the Nursing Program office or call 281.425.6229 for more details.
Course Descriptions (PDF)
The Community and Lee College (PDF)

Off-Campus Education
Community Education
Community Services
About Lee College
Lee College Personnel

Glossary (PDF)
Campus Contacts (PDF)
Index (PDF)
Lee College Main Campus Map (PDF)
Service Area Map (PDF)