PDF this page
Scholarship Breakfast
The Lee College Foundation holds an annual Scholarship Breakfast to honor donors of scholarships and the students who receive them. Special recognition is given to new donors who have given scholarships during the current year.
The breakfast, held each spring, is a heartwarming event as all donors of scholarships and the students who receive them are united and given a chance to get to know one another. The Foundation relishes any opportunity to demonstrate not only our appreciation to our donors, but also the appreciation of our students for the opportunity to complete their educational goals with their help.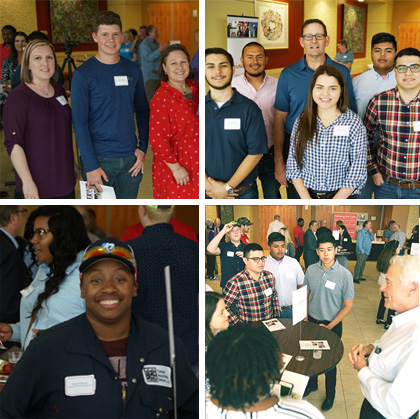 Industry Scholarship Reception
As our scholarship donors have grown, so have our scholarship recipients. As such, the Lee College Foundation holds a separate event, the Industry Scholarship Reception, to provide an occasion for our technical students to meet representatives from our industry partner companies that have donated scholarship funds. It is a great opportunity for our students to interact with professionals that believe in their education as much as they do.
Giving the students a chance to express their gratitude and share their educational and career goals is a great way to begin networking for their future. Our industry partners get a chance to see how their generous donations have helped to encourage success in Lee College students and give them an opportunity to become an integral part of the industry workforce.