PDF this page
Hispanic Education Access and Completion Committee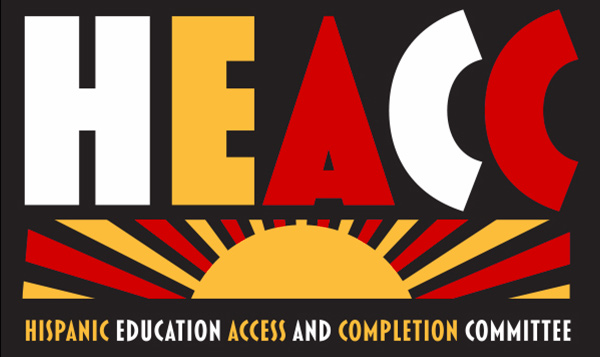 (formerly HEAC)
The Hispanic Education Access and Completion Committee was formed in 1986 to encourage enrollment in higher education and the completion of degrees and certificates while preserving the Hispanic heritage through cultural programs. A nationally recognized volunteer organization under the leadership of Lee College, it sponsors programs and events for both high school and college students and their families to define the enrollment and registration process, available financial assistance and college expectations. Parent seminars are scheduled throughout the year to discuss opportunities, early success for college readiness, and college requirements.
Contact
If you have any questions or would like to join, contact HEACC Liaison Marylou Ortuvia at mortuvia@lee.edu or 281.425.6524.
HEACC Constitution and Bylaws
Article I. Name
The name of this organization shall be the Hispanic Educational Access and Completion Committee (HEACC) of Lee College.
Article II. Purpose
The purpose of this organization shall be to:
Encourage parent/family involvement in helping their children attain academic success.
Increase community awareness on the value of an education.
Promote educational, social, and cultural program in the Hispanic community.
Article III. Affiliation
This organization shall operate according to the regulations/policies of Lee College.
Article IV. Nondiscrimination
This organization shall not discriminate on the basis of race, color, national origin, age, sexual orientation, or disability.
Article V. Membership
Section 1: This organization shall be open to all Lee College students and the community.
Section 2: Members of this organization shall be voluntary participants in the organization activities.
Section 3: Membership attendance will be kept by the organization secretary.
Article VI. Officers
Section 1: The officers of this organization shall consist of:
President
Vice-President
Secretary
Section 2: Qualifications: committed, responsible, accountable and enthusiastic people.
Section 3: Term of officers: An officer shall serve a one year term beginning on June 1. Those officers that wish to keep their position for more than one term must be nominated by other members for re-election.
Section 4: Duties. the duties of the officers shall be as follows:
President:
Shall be the chief executive officer of the organization.
Shall preside over meetings and shall authorize organizational funds.
Shall appoint committees as required, and shall fill by appointments vacancies, which may occur among the officers.
Shall set the agenda for all regular and special meetings of the organization.
Shall delegate responsibilities, and oversee all organizational activities.
Shall keep an open mind in all matters of the organization.
Shall take others comments and concerns into consideration.
Vice-President:
Shall assume the duties of the president during his/her absence and shall succeed to that position in the event that it becomes vacant.
Other duties as appointed by the president.
Must co-chair the Planning Committee.
Secretary:
Shall keep records of all meetings.
Shall maintain a journal of all organizational activities.
Shall keep an accurate up to date list of all voting members.
Shall be responsible for the announcement of meetings.
Other duties as appointed by the president.
Article VII Elections
Section 1: Elections of officers shall be held yearly.
Section 2: All current members are eligible to vote, however, they must be present at the meeting.
Section 3: Candidates for officers must be current members to qualify.
Section 4: All officers shall be elected by a majority of votes.
Article VIII. Meetings
Section 1: Regularly scheduled meetings will be held monthly.
Section 2: Regular meetings shall be conducted according to Robert's Rules of Order.
Section 3: Officers shall convene into a special session at the discretion of the president.
Article IX. Advisors
The Lee College president will appoint an employee to serve as a liaison between Lee College and HEACC.
Article X. Financial Provisions
Section 1: Revenue Sources
Lee College fund: Lee College provides HEACC with funds almost in its entirety.
Donation: all donations by individuals or institutions shall be made to HEACC, unless the donor specifies a specific purpose for the donation.
Section 2: Budget
A tentative budget shall be prepared for the purpose of allocating funds to the different projects throughout the year.
Financial reports shall be presented at the request of the president.
Section 3: The budget shall be managed and controlled by the Lee College liaison.
Article XI. Amendments
Section 1: Amendments to this Constitution and/or Bylaws shall be presented in writing in any meeting by any current member.
Section 2: After a review of the amendment or amendments by the president to ascertain that all is in order and no conflicts exist, the amendments(s) will be presented to the members at the following meeting.
Section 3: A majority vote of the present members will be necessary for approval of an amendment.
Section 4: A general revision of the Constitution and/or Bylaws, shall follow the same procedures set forth in Section 1, 2, and 3.