PDF this page
Introduction/Overview | Curriculum Requirements | Student Learning Outcomes | Instructors | Occupational Outlook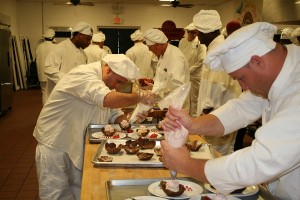 Lee College Huntsville Center (LCHC) is committed to preparing students with the knowledge and skills necessary to succeed in today's dynamic and challenging work environment.
The Culinary Arts program is offered at the Eastham Unit within the Texas Department of Criminal Justice: Eastham Unit – 2665 Prison Road #1, Lovelady, TX 75851.
The Culinary Arts program is composed of two certificates of completion. The Basic Culinary Arts certificate requires 15 semester credit hours of coursework, while the Advanced Culinary Arts certificate requires 29 credit hours.
The hours earned toward the two certificate programs can be applied toward the Associate of Applied Science Degree in Culinary Arts.